Taros Salty Duck Leg Stew
Ingredients:
| | |
| --- | --- |
| Chinese Preserved Duck Leg | 1 piece |
| Taros, sliced in thick pieces | 300g slices |
| | 100ml |
| | 100ml |
| Little bit of sliced ginger and sectioned spring onion | |
Seasonings: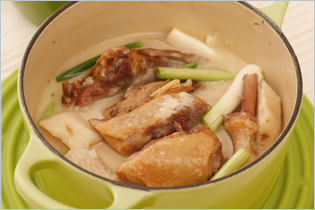 Cooking Method:
Scald the preserved duck leg in boiling water for about 10 minutes, bring to steam for 10 minutes, then chop up and set aside.
Scald the taros in boiling oil until light browned, drain oil and set aside
Add oil into your 14cm Round French Oven, preheat on low heat for about 2 minutes, stir and sizzle ginger until fragrant, return the taros to stir fry thoroughly, add chicken stock and simmer on very low heat for about 8 minutes.
Add the duck leg and coconut milk to stir fry thoroughly. Add sugar and keep simmer for another 8 minutes until the taros tendered and sauce thickened, turn the heat off, keep the lid on and set for another 5 minutes.
Finally stir in sectioned spring onion, serve hot.
Recommended Products: