Basic Fluffy Omelette
Ingredients:
| | |
| --- | --- |
| | 3 pieces |
| | 2 tsp |
| Cheddar, Gruyere, Swiss or Muenster Cheese | 2 slices |
| Chopped Cooked Ham or Crumbled Bacon or Bell Pepper cut in tiny dice (optional) | 3 tbsp |
| Salt and Pepper for Taste | |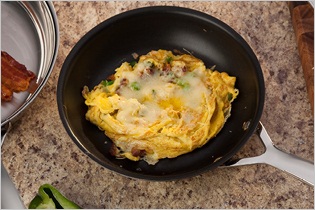 Cooking Method:
Add the eggs to a medium bowl and beat them with a hand-held mixer for at least two minutes on high speed, or until they are frothy, pale yellow and tripled in size. Salt and pepper the eggs to taste.
Place the fry pan on medium heat. Add the butter, and as it melts use a pastry brush to spread it over the bottom and sides of the pan. When the butter starts to sizzle, pour in the egg mixture. Leave them alone for about 30 seconds, or until they just start to set on the bottom. Tip the pan to allow some of the egg to run up the sides, and then shake the pan with a back and forth motion to loosen the omelette.
After about 1 1/2 minutes, pry up one corner of the eggs with the spatula. With a flick of the wrist, flip the omelette over onto the undercooked side. Top the omelette with the cheese and other toppings. Cook 30 additional seconds. Fold the omelette in half and transfer it to a platter, then cut it in half to serve two, or move to a plate to serve one.
OR
Have the oven preheated to 325°. After adding the eggs to the fry pan, let the pan remain on medium heat on the stovetop for 30 seconds to allow the eggs to start to set. Place the pan in the oven for about 3 to 4 minutes or until the omelet is puffed and the top is still a bit runny. Remove from the oven, top with the cheese and other toppings, then fold the omelette in half. Allow to sit for a minute or two to finish cooking. Serve as above.
Note:
This may take a bit of practice to get right, since burners and ovens vary. The idea is to keep the omelette as fluffy as possible, not overcooked and rubbery.
Variations:
If you're leery of the flipping, simply ignore it. When the eggs are still a bit runny on the surface, add the toppings and fold it in half inside the pan. Allow it to sit for 30 seconds off the heat to finish cooking.
To create an even fluffier omelette, separate the yolks from the whites and beat the whites with a pinch of cream of tartar until they stand in soft peaks. Lightly fold the whites into the yolks until only a few streaks of white remain. Then continue with the recipe.
Recommended Products: