Grilled Chicken Wings
Ingredients:
| | |
| --- | --- |
| | 12 pieces |
| Garlic Salt, Salt or Pepper | 3 tsp |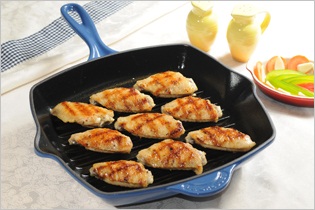 Preparation:
Defrost the chicken wings and rinse. Dry with a cloth or kitchen towel and place on a plate.
Sprinkle the garlic salt or salt and pepper on the chicken wings. Marinate over night until the chicken wings absorb the seasoning. Refrigerate.
Before cooking, remove the chicken wings from refrigerator and let stand at room temperature. Heat the grill thoroughly before cooking the chicken wings, to prevent the skin of the chicken wings sticking on the grill. If the skin of the chicken wings sticks to the grill, it means the skin is still uncooked. Wait until the skin can completely detach from the grill before turning the chicken wings over.
Cooking Method:
Heat your 26cm Square Skillet Grill on medium heat for two to three minutes. Sprinkle a small amount of water on the grill. If the water droplets bounce on the grill, it means the grill is hot enough. Turn to low heat.
If the grill is being used for the very first time, add a small amount of cooking oil. When the oil is hot, lay the chicken wings on the grill on their left side. Grill for five minutes, then turn chicken wings onto their right side and grill for three minutes. Turn the chicken wings over and grill for three minutes or until they are cooked.
A shiny layer will form naturally on the grill over time. This shiny layer prevents food from getting stuck on the grill and means cooking oil may not be necessary.
Recommended Products: