Grilled Lamb
Ingredients:
| | |
| --- | --- |
| | 6 pieces |
| | 250ml |
| | 1 tbsp |
| | 1 tbsp |
| | 200g |
| | 200g |
| | 2 pieces |
| Zucchinis, thickly sliced | 400g |
| | 1 tbsp |
| | |
| | |
| Freshly Ground Black Pepper | |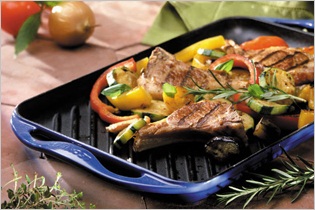 Cooking Method:
Marinate the lamb chops in half the olive oil, the rosemary, savory and a little black pepper for 2-3 hours.
Cut the peppers in half lengthways and place under a hot grill, or in a hot oven until the skins are charred. Wrap into foil and leave for 30 minutes. Peel away the skins. Slice thickly, add 2 tablespoons of olive oil and the crushed garlic, set aside.
Cook the zucchinis in boiling salted water until just tender. Drain well.
Pre-heat your Rectangular Grill over a medium heat for 3-5 minutes. When hot, oil lightly.
Take the chops out of the marinade and pat off the excess moisture with kitchen paper towels. Grill the chops for 3 minutes on each side (lamb should be served while still pink).
Mix the basil with 2 tablespoons of the olive oil. Remove the grill with the chops from the heat. Immediately pour the basil dressing over them. Add the marinated peppers and zucchinis, returning the grill to the heat to re-heat them for a few seconds.
Garnish with a little more of the fresh herbs and serve from the grill. A little fleurs de sel can also be sprinkled over the dish before serving.
Note:
The marinade will enhance the flavours of the dish but is not necessary. You can perfectly grill the lamb chops without any oil; it will bring out food's natural flavours and meat juices that caramelise on the grill. A grinding of sea salt and black pepper will produce the most succulent, salty, savoury food at all.
Recommended Products: