Seafood Lasagne
Ingredients:
| | |
| --- | --- |
| Dried lasagne pasta sheets | 12 pieces |
| Cod or other firm white fish | 225g |
| | 350g |
| Cooked tiger prawns, cut into halves | 175g |
| | 1 litre |
| | 75g |
| | 75g |
| | 2 tsp |
| | 2 tsp |
| | 2 1/2 tbsp |
| | 225g |
| | 2 pieces |
| Salt and freshly ground black pepper | |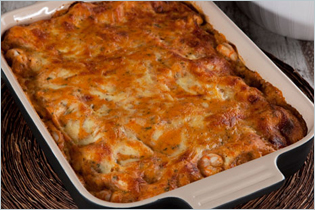 Cooking Method:
Preheat oven to 180°C.
Cook the lasagne as directed on the packet until it is "al dente" Drain and rinse well with cold water.
Put the fish in a large covered frying pan on the stove top with 125ml (1 cup) of the milk and the bay leaves. Cook gently for 5 – 8 minutes until it is tender, When it has cooled a little pour off and retain the milk. Remove any skin and bones from the fish and break the flesh into flakes.
For the sauce melt the butter in a large saucepan over a low to medium heat. Stir in the flour and over the same heat cook, stirring until the "roux" is pale golden in colour. Remove the pan from the heat and gradually whisk in the milk including the reserved milk.
Return the pan to a medium heat and whisking continuously bring to a simmer. Add the herbs, tomato purée and all but 2 tablespoons of the cheese. Simmer for 2 minutes, seasoning with some salt and pepper.
Spread 6 tablespoons of the sauce over the base of the lightly oiled dish. Add one third of the lasagne sheets in an overlapping layer. Add half the flaked fish with half the prawns, season lightly.
Spoon over 6 more tablespoons of sauce then repeat the above layers once more. Cover with the last layer of lasagne and the remaining sauce spreading it evenly. Scatter the reserved cheese over the top.
Bake in the oven for 25 – 30 minutes, until the top is golden brown and the sauce bubbling.
Serve straight from the dish with a green salad and crusty breads.
Recommended Products: