Classic Potato Gratin
Ingredients:
| | |
| --- | --- |
| Garlic Clove, peeled and halved | 1 large piece |
| Room Temperature Unsalted Butter | 3 tbsp |
| | 3 pounds |
| | 12 ounce |
| | 6 ounce |
| Fresh Rosemary (optional), finely chopped | 1 tsp |
| Chopped Chives or Fresh Italian Parsley | 2 tbsp |
| Salt and Freshly Ground Pepper | |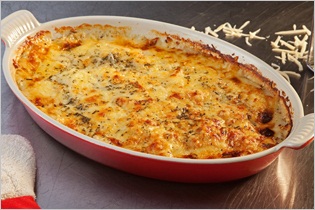 Cooking Method:
Preheat the oven to 425°F.
Generously rub the inside of the Le Creuset au gratin dish with the cut side of the garlic cloves. Then rub the inside surfaces with a generous amount of the butter.
Slice the potatoes in 1/8-inch slices.
Arrange half of the potato slices, overlapping slightly, in the bottom of the au gratin dish. Sprinkle with salt and pepper. Fluff the creme fraiche with a fork to loosen it, then spread half over the potato slices to coat them completely. Evenly sprinkle half the cheese over the first potato layer. Carefully distribute the rosemary over the surface.
Top with the remaining potato slices, again overlapping slightly. Salt and pepper the slices and spread with the remaining creme fraiche and finally, the remaining cheese.
Place in the oven and bake, uncovered, at 425°F for 30 minutes. Turn the oven temperature down to 350°F. Bake until the top is nicely browned and the gratin is bubbling - about an additional 45 minutes.
Remove the gratin from the oven and let it stand for 10 minutes. Sprinkle with parsley and serve.
Recommended Products: