Coarse Country Pate
Ingredients:
| | |
| --- | --- |
| | 8 ounce |
| | 4 pieces |
| | 12 ounce |
| Boneless Chicken Thighs, finely chopped | 8 ounce |
| Chicken Livers, trimmed and chopped | 8 ounce |
| | 2 pieces |
| Garlic Cloves, peeled, chopped and mashed to a paste with a teaspoon of sea or kosher salt | 2 pieces |
| | 1 tbsp |
| | 1 tbsp |
| | 1 tbsp |
| Freshly Ground Black Pepper | 1/4 tsp |
| | 3 large pieces |
| | 3 tbsp |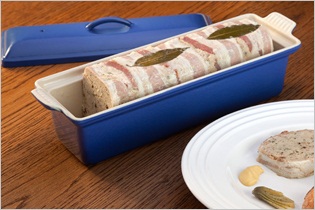 Cooking Method:
Lay the four bay leaves along the bottom of the pate terrine.
Place the bacon slices on a work surface and, using the dull side of a table knife, flatten and lengthen each slice. Center each slice in the bottom of the terrine (side by side) and drape ends up the sides of the dish leaving the ends on either side of the terrine.
Preheat the oven to 300°F.
Put the ground pork, chopped chicken thighs, and chopped chicken livers into a bowl with the other ingredients. Stir together thoroughly (use your hands) and transfer the mixture to the bacon-lined pate terrine.
Arrange the bacon ends over the contents to enclose the mixture. Use additional bacon pieces to cover, if necessary.
Put the lid on the terrine and place the terrine into a larger roasting pan. Place on the oven rack and then fill the larger pan with hot water halfway up the sides of the terrine to form a water bath.
Bake the pate in the oven for 2 or 2 1/2 hours, or until the juices in the middle of the terrine run clear when pierced with a toothpick.
Carefully remove the pate terrine from the water bath and set aside to cool completely.
Unmold onto a large serving dish, trimming away any meat solids or fat that have escaped and solidified. Remove the bay leaves and discard.
Cut into even slices with a very sharp knife and serve with small toast rounds and tiny French cornichon pickles.