Wine Accessories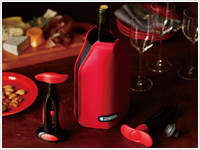 In 1979, Herbert Allen; a prolific inventor, invented Screwpull. His work on Screwpull began in 1975. The impetus for the invention came from his wife, who had a particularly frustrating experience opening a bottle of wine. After trying a number of corkscrews, all unsuccessfully, she gave up and presented her husband with the engineering challenge of a lifetime - to produce a corkscrew that would extract the cork effortlessly and perfectly every time.

Today the Screwpull brand name is recognized world wide, with products being sold in nearly every industrialised nation. In 1991, Le Creuset purchased Hallen International Inc who made Screwpull wine accessories, and now the brand name has changed to Le Creuset's wine accessories.
Lever Model Corkscrews
Before using any corkscrew, always read the appropriate instructions for your model. Remove any foil covering the cork, and check that the neck and rim of the bottle are free from chips and cracks that could weaken the bottle. When opening, hold the bottle on a solid, level surface. Handle the corkscrew with care, as the tip of the screw is sharp. Ensure that the corkscrew is seated squarely on the neck of the bottle before using.

Lever model corkscrews are not suitable for opening sparkling wines such as Prosecco and Champagne, and are not designed to replace corks in opened bottles. For old, fragile, brittle or broken corks we suggest using a two-prong Butler's Friend.
Synthetic Corks
Most Le Creuset lever model corkscrews are designed to work well with modern synthetic corks. However, with older lever corkscrews, synthetic corks may become stuck on the screw and jam the mechanism. If the cork becomes stuck on the corkscrew it can be removed by carefully twisting it off with your fingers. Use caution when doing this, as even the tip of a worn corkscrew will be sharp.
Replacing the Screw
Lever model corkscrews are finished with a special coating designed to make cork removal easy. If the coated screw starts to show signs of wear or becomes difficult to use, consider replacing the screw. To find the right replacement screw and instructions on how to change it, please refer to the instruction guide for that model.

Generally a worn screw is replaced by unscrewing the protective chrome cap above the worn screw, removing the screw, and inserting the new screw and replacing the protective cap.
Cleaning and Care
The point of the screw is very sharp—handle it with care.

Lever model corkscrews are not dishwashwer-safe. We recommend cleaning corkscrews occasionally using a damp cloth or warm, soapy water to remove wine deposits and any particles of cork that may accumulate. Dry well after washing and store in a dry place to avoid corrosion on metal components. Do not use lubricants on your lever model corkscrew.