Silicone Kitchenware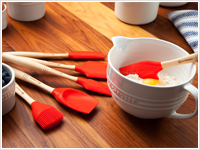 Le Creuset silicone is an ideal material for cooking utensils. It is smooth and flexible, and cleanly scrapes both flat and curved surfaces with ease. Silicone will not scratch or damage cookware.
Before First Use
Remove all packaging and labels. Wash the utensil or accessory in hot, soapy water. Rinse and dry thoroughly.
Heat Recommendations
Le Creuset silicone spatulas are heat-resistant to 482°F / 250°C, so they are ideal for stovetop cooking. Utensils should not be left in pans while cooking, and handles should not overhang the sides. Heat from the stove can damage the wooden handle.
Cleaning and Care
Silicone is dishwasher-safe, so accessories made entirely from silicone can be placed directly in the dishwasher.

To clean wooden-handled utensils simply remove the silicone blade by pulling it from the handle and place in the dishwasher. Wash the wooden handles by hand and dry well before replacing the clean utensil blade.

Mineral oil can be used on the wooden handle after drying to preserve its good looks.