Mini Simnel Cake
Ingredients:
| | |
| --- | --- |
| Ready-made golden marzipan | 227g |
| | 1 tbsp |
| | 1/2 piece |
Cake Mix:
| | |
| --- | --- |
| | 85g |
| | 85g |
| | 1/2 tsp |
| | 1/4 tsp |
| | 1 piece |
| | 150g |
| Cherries washed and halved | 6 pieces |
| | 1 tbsp |
| | 1/2 piece |
| | 1/2 piece |
| | 100g |
| | 1/4 tsp |
| | 1/4 tsp |
| Baking parchment and a little softened butter to grease the dish | |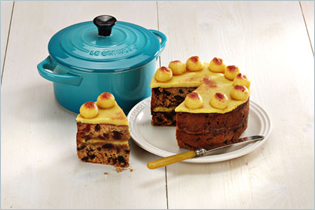 Preparing The Marzipan:
Cut the marzipan block into three pieces.
Roll out two of the pieces in to 12cm (4 ¾ inch) rounds.
Cut the remaining piece into eleven and roll into balls.
Set to one side whilst you make the cake.
Cooking Method:
Lightly grease the casserole and line the base and sides with parchment paper.
Cream the butter and sugar together in a medium sized bowl until light and fluffy.
Beat in the vanilla essence, almond essence and the beaten egg.
Stir in the dried fruit, cherries, ground almonds, orange juice, orange and lemon zest.
Sift together the flour, mixed spice and cinnamon into the mixture and stir well to combine all the ingredients.
Spoon half the mixture into the lined casserole and smooth over the top and place over one 12cm round of marzipan. Add the remaining cake mixture, smooth over the top once more and make a small well in the centre with the back of the spoon.
Bake in the centre of a pre-heated oven for about 1 hour or until a skewer inserted into the centre comes out cleanly.
Allow to cool in the casserole before turning out.
Clean the casserole. Remove the parchment paper from around the sides of the cake and place it back into the casserole.
Brush the top of the cooked cake with the apricot jam and place on the second marzipan round on. Arrange the eleven balls of marzipan around the outer edge of the cake and brush the top with the ½ beaten egg.
Place the cake under a medium heat grill at least 10cm away from the heat source for 2-3 minutes until the top is lightly browned and toasted. Alternatively you can brown the top using a chef's blow torch.
Once completely cooled the cake is ready for gifting or keeping.
Recommended Products: