Moroccan Lamb
Ingredients:
| | |
| --- | --- |
| | 1 piece |
| | 2 tbsp |
| | 1 piece |
| Garlic Cloves, thinly sliced | 2 pieces |
| Lamb Shoulder, cut into cubes | 680g |
| | 1 tsp |
| | 2 tsp |
| | 2 tsp |
| | 1/4 tsp |
| | 1 cup |
| | 450 ml |
| | |
| Fresh Cilantro to Garnish | |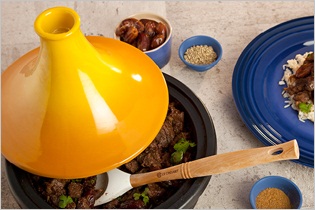 Cooking Method:
Trim coarse stalks from fennel, halve the bulb and remove any tough core. Thinly slice each half (a mandoline does this best).
Heat 1 tablespoon of the oil in your 27cm Tagine base. Add the onion, fennel slices and garlic and cook until all are just beginning to brown. Transfer to a plate and reserve.
Add the remaining oil to the base and brown a few pieces of the lamb at a time, using tongs to turn the meat. Do this in batches, removing each batch to a plate when browned. When all of the meat is browned return the meat to the tagine base.
Combine all of the spices and salt in a small bowl. Sprinkle over the meat and stir well. Continue to cook for 1 minute over medium heat.
Return the vegetables, together with the dates and half of the water (1 cup), to the tagine base and stir well. Cover with conical lid and cook very gently over medium-low heat, stirring occasionally, for 2 to 2 1/2 hours. The spices will thicken the liquid as the dish cooks. Add the remaining 1 cup of water little by little as necessary during the cooking process.
Note:
For maximum flavor, before cooking add 1/2 tablespoon of cumin seeds to the tagine base placed over low heat. Toss for about 2 minutes or until seeds darken slightly and become aromatic. Add them to a spice mill or mortar and pestle and grind them, then use in the recipe.
Recommended Products: