Step 1

Raw Materials

The raw material includes three types, pig iron, steel, and iron. Cast iron has been used as "the" material for cooking pots since Roman times. Even with today's wide choice of cooking materials, cast iron, is still being used due to its ability to retain and spread heat evenly.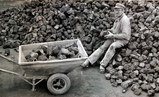 Step 2

Sand Moulds and Casting

The raw materials are melted at an extremely high temperature in a large cauldron (called a "creuset" in French) and then poured into the moulds. Once the shape is cast, and the iron cooled, it is removed from the mould ready for the finishing process to begin. Each mould is broken after being used which means that no two pieces of Le Creuset are ever "exactly" the same.

Step 3

Finishing

Once removed from its mould, each piece is then passed through several finishing processes under the hands of skilled craftsmen for cleaning and smoothing, rough edges and burrs are removed in a hand process called "fettling".

Step 4

Base Enamel

After the two-step cleaning, each piece is blasted by tiny metal pellets to prepare a uniform surface for base enamelling. Each piece of Le Creuset receives two coats of enamel. The first is a ground coat which, once fired at 840°C, is clear and uncoloured.

Step 5

Colour Enamel

Base enamelling allows for better adhesion of the second coat, the coloured enamel, to the cast iron. This special colour coat is applied internally and externally. After the enamel is applied, it is air dried before being vitrified to produce a highly durable, hygienic and shock resistant finish.

Step 6

Completion

All our products has a high standard in quality. Precise quality check is carried out by a team of full-time staff, with the qualified products being shipped. The guarantee system is a sign of confidence in the quality of our skilled craftsmen.